It's hard to describe our relationship with fabric … but some may call it an obsession.
And we know how hard it can be to narrow down the fabric you want for your unique wedding dress, and, thankfully, the days of heavy shiny satin being your only choice have long gone - so we're rounded up some of our favourites for you. It's important to consider the style and the silhouette of your dress and how a fabric hangs – but don't worry we'll give you lots of help and advice on that. Some fabrics suit an 'architectural' style, whilst others lend themselves to boho chic.
Beverley Tricker looks at some of our favourites;
Mikado
This is a divine fabric with a richly matt finish. It's a relatively firm fabric so great for structured dresses, but it's very lightweight. The original Mikado fabrics were 100% silk, but man-made alternatives are available. It was hugely popular in formal wear in the 1950s and has experienced an immense resurgence in popularity today... and some of our favourite dresses are made in Mikado.
Brocade
One of our absolute favourites, this is a fabric with a raised design woven into it rather than printed on it, for a style which needs some body. Often brocades come with the design appearing in a different colour. Brocades vary widely in their complexity and the finest quality brocades are 100% silk. Some of our brocades have metallic threads making them ultra luxurious.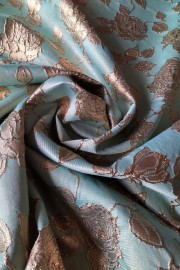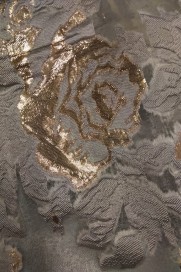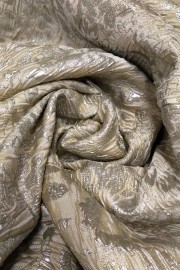 Taffeta
Making a comeback in recent years after its 1980s heyday, taffeta is a stiff fabric which rustles magnificently. It's rich, but not heavy, and our favourite is shot taffeta where threads of two different colours are woven together to give an iridescent appearance and a real depth of colour. We often use in in underskirts too – there's nothing like the rustle of taffeta!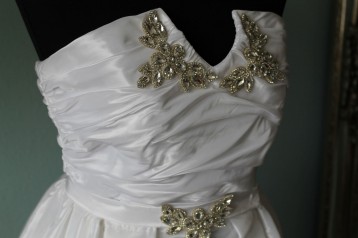 Charmeuse
If you want slinky then charmeuse is your go-to choice. With a sheen on the right side and matt finish on the reverse, charmeuse drapes like a dream. It's often used for dresses cut 'on the bias'. It's quite clingy but moves beautifully and is an elegant choice.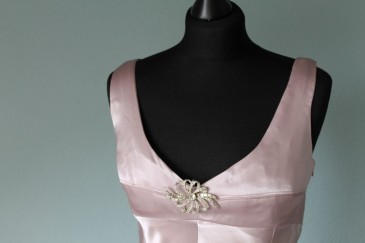 Georgette
This is a crepe fabric – which is light and drapes really well and clings to your shape. It's lightweight and semi sheer with a matte finish. It's similar to chiffon, which is a more sheer fabric, but unlike chiffon which is smooth, georgette has a slightly textured crepe surface.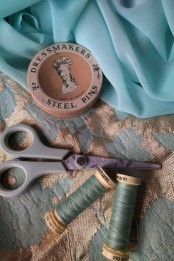 Satin
Many brides are put off by the mention of satin – with thoughts of s shiny 'meringue' confections in mind. But there is a plethora of satin finishes available now – all of them offering a smooth finish and a soft drape.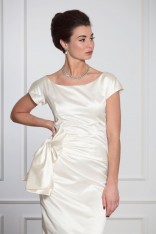 Duchesse Satin
What can we say about Duchesse Satin – other than it's one of our most loved fabrics. Originally it was such a luxury fabric that it was the chosen fabric for royal garments and for those with great wealth. It's lustrous and elegant and we use it in many of our dresses for its sheen and soft texture which can hold a lot of body.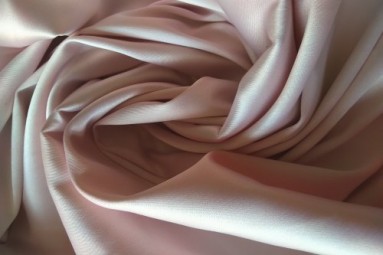 Tulle
Once used only for the petticoats, tulle now takes centre stage in many bridal gowns. It's a very fine, gauzy net and is often left unfinished at the hem to give a light and airy look and feel. It can provide oodles of volume with a floaty feel.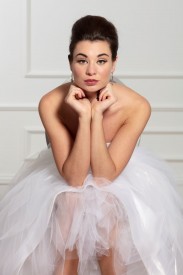 Broderie Anglaise
Another retro wedding dress fabric which is on the rise once again is this cotton openwork, informal, eyelet lace fabric. Once beloved by 1970s Laura Ashley brides, today's Boho chic brides are making it popular again. A popularity which is growing since Carrie Johnson's wedding dress incorporated eyelet lace.
Cloque
This fabric takes it names from the French ford for blister! Which gives some idea of how the surface looks. We can vouch for it being prettier than it sounds. It's made up if small, irregular raised patterns woven into the fabric to give a puckered and rich look. It makes very elegant column dresses like our Gigi dress.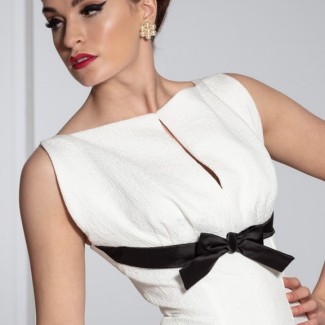 Lace
A bridal favourite throughout the centuries, there are so many types of lace that we're planning a future blog just focused on lace!