Lace Me Up
Coco Chanel described it as "The prettiest imitations ever made of the fantasy of nature". And many brides agree that the delicacy and elegance of lace is the perfect choice for their wedding gown.
There is a big problem with lace however! There's a massive choice of different laces in different weights, colours and styles. And, for a fabric which some describe as 'mostly holes', the price can range from modest to positively eye watering!
2021 has seen a big increase for us in brides choosing lace for part – or all – of their dress so here's our guide to the main types of lace in all their beauty:
Embroidered net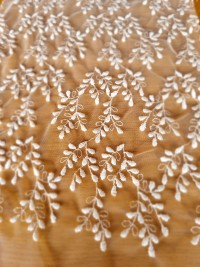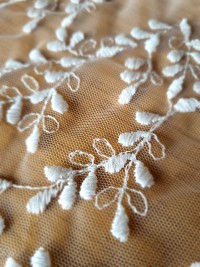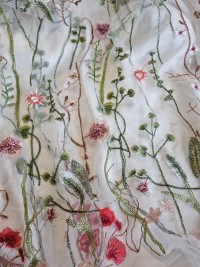 A delicate fabric with embroidery on a net background. In white or ivory, this lace looks beautiful over a pale colour such as blush or sky blue. Increasingly we're seeing coloured embroidered nets – from the pale and pastel to a more vibrant palette.
Chantilly Lace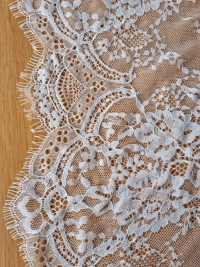 Another delicate lace which usually has fine floral designs which are outlined with a fine thread. It has a very fine background, a scalloped edge and an 'eyelash' edge. It's pretty and graceful and gets it name from the French city where it originates from.
Alençon lace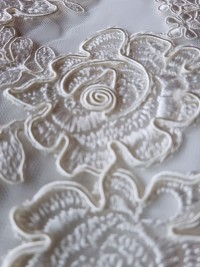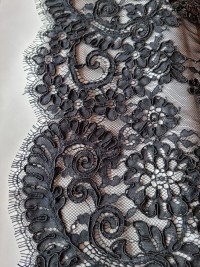 A more richly embellished lace with raised motifs, cord outlining the motifs and often with beading. It's named after the town in Normandy where it originates and was made by hand. It's a more 3 dimensional fabric and the edging is often used on formal trains.
Guipure lace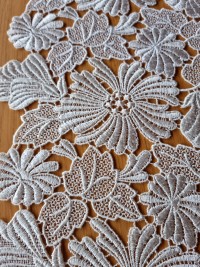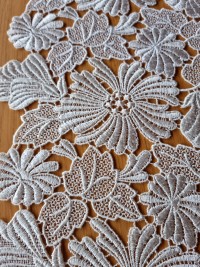 Unlike the previous laces, guipure has no net fabric base and is a heavier lace. Originally made on bobbins, the motifs are connected to each other rather than by mesh – giving it an open work finish. Guipure lace is sometimes also known as Venetian lace.
Embellished/embroidered lace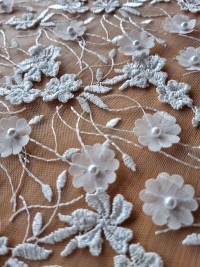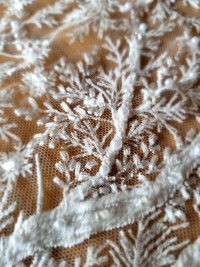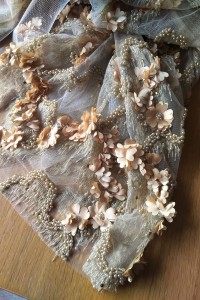 There is a host of lace type fabric with different types of embellishment from 3D chiffon motifs to crystals and heavy beading. These are increasingly popular to add detail without too much OTT bling.
Cotton Lace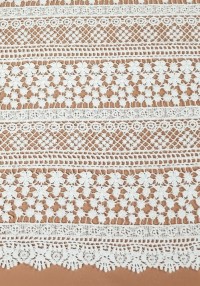 Popular for a Boho style dress with a hand 'crocheted' or tatting look.
Not all laces are suitable for all deigns. It's important to remember that lace can come in an all over pattern, or with a design that concentrates around the selvedge and bleeds out upwards across the roll. But don't worry we will keep you right on the most appropriate lace for your design.
We can also order samples for you to help you make your decision with a larger piece of fabric.